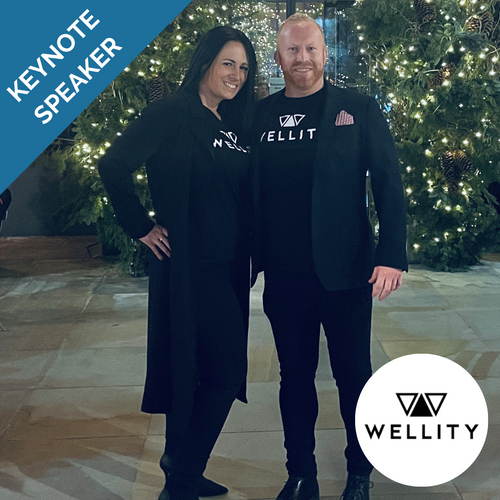 Simon Scott-Nelson & Sadie Restorick
Keynote Title TBC
Speaker Bios
Simon Scott-Nelson
Simon Scott-Nelson is Co-founder of Wellity Global, the workplace wellbeing training consultancy which is now in 70 countries and has trained over 1000,000 employees worldwide. He has also co-founded The Great British Workplace Wellbeing Awards and The Great British Workplace Wellbeing Conference.
As an international keynote speaker, Simon has presented at global conferences delivering powerful sessions which demonstrate the business and leadership case for developing healthy working cultures and evoking change. Specific areas of expertise lie within high-performing executive teams and the transformation of perspectives and behaviours.
A global wellbeing consultant, speaker, facilitator, and panel host, Simon has also interviewed numerous celebrities including Jonny Wilkinson, Deborah Meaden and Wynne Evans on the subject of wellbeing, and has chaired multiple wellbeing events and campaigns for some of the largest global companies.
Simon is a member of the International Institute of Risk and Safety Management and is also the Chair of the National Institute of Sales Professionals, Mental Health and Wellbeing Committee.
Throughout his career, Simon has worked with executives, leaders, and HR professionals across multiple industries and sectors spanning numerous geographical regions, conducting strategy gap analysis and training recommendations, and has been interviewed across various channels, including national press and television, to discuss industry specific challenges and resolutions around the global workplace wellbeing space.
Sadie Restorick
Sadie Restorick is co-founder of Wellity Global and The Great British Workplace Wellbeing Awards. She is a global speaker, consultant, trainer, author and published academic scholar who has specialised in the field of workplace wellbeing and psychosocial risk management for over thirteen years, driving culture change and leadership development. She is a BA Communications graduate and has extensively studied training needs analysis and design and theories of communication within groups and organisations.
She holds a diploma in Mental Health Awareness and a diploma with distinction from the Fellowship of Associated Stress Consultants. She has also been awarded an MSc with Distinction in Workplace Health and Wellbeing from the globally recognised University of Nottingham. Specific areas of study include the phenomenon of presenteeism, creating psychological cultures, the effectiveness of interventions for tackling stress in the workplace, the impact of digital overload and burnout and the dynamics of leadership.
Great British Businesswoman of The Year Finalist 2022, Sadie is a Professional Member of the International Stress Management Association, The Association of Business Psychologists, the Institute of Occupational Health, and the International Institute of Risk Safety Management. She is recognised as a global leader in her field, having worked with some of the largest organisations around the world and has appeared across the international press and online business communities such as the Chartered Management Institute and NatWest Business Hub. Sadie is an internationally recognised keynote speaker, presenting at events including the Wellbeing Summit 2020 and Corporate Wellbeing Expo, European Business Show and has presented her published academic research on work-related stress at the European Academy of Occupational Health Psychology Conference.
Keynote session information TBC
Simon & Sadie will also be hosting the Corporate Wellbeing Expo Keynote Stage