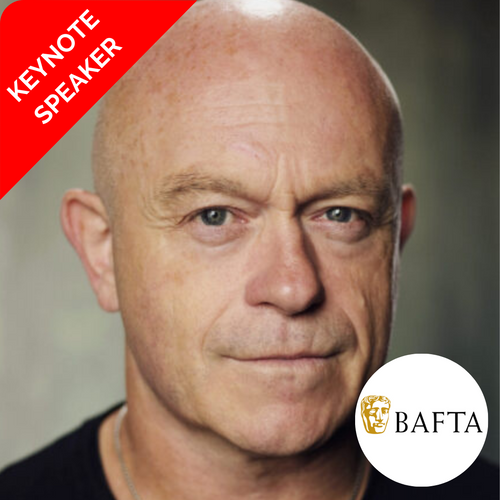 Ross Kemp
BAFTA award-winning documentary maker, actor & author
A special chat with BAFTA winning documentary filmmaker Ross Kemp about some of the most dangerous adventures of his career so far
An intimate fireside style Q&A about Ross' career
Speaker Bio
Ross is a BAFTA award-winning documentary maker, actor, and author, who rose to prominence in the BBC1 soap Eastenders. Since 2006 he has received international recognition for his award winning documentaries.
Ross began his acting career on stage with the likes of John Thaw and Richard Wilson. He is best known for his multi award winning portrayal of Grant Mitchell in EastEnders. After leaving the show Ross signed to ITV to star in their big drama series, Ultimate Force.
In recent years Ross has built a reputation as one of TV's most exciting and hard-hitting documentary makers. After a brief meeting with a member of the infamous 'Bloods' gang in California, Ross went to Sky with the idea for a new series, Ross Kemp on Gangs, for which he won a BAFTA for Best Factual Series.
After making 27 programmes around the world, Ross moved on from Ross Kemp on Gangs to a new series: Ross Kemp in Afghanistan, where he spent time from 2007 to 2012 with army regiments: 1 Royal Anglian, 5 Scots, 1 Royal Irish, and twice with 45 Commando. Ross and his team were nominated for a 'Best Factual Series' BAFTA, and won an AIB International Media Excellence Award for 'International TV Personality'.
Ross Kemp's Extreme World followed on Sky with documentaries in Gaza, Israel, the Amazon Rainforest, Pakistan, Papua New Guinea, The Congo and Ukraine.
He has authored Ross Kemp on Gangs (Sunday Times Bestseller), as well as Gangs 2, Ross Kemp on Afghanistan, Ross Kemp on Pirates, Warriors & Raiders and A to Z of Hell.
Most recently Ross's documentaries for ITV have included Ross Kemp: The Search for Michael Jackson's Zoo, The Millennium Dome Heist with Ross Kemp, In the Line of Fire with Ross Kemp, Ross Kemp and the Armed Police, Hatton Garden: The Inside Story, HMP Belmarsh with Ross Kemp, Ross Kemp: On the NHS Frontline, Britain's Tiger Kings: On The Trail with Ross Kemp and the Ross Kemp: Living With… series which included a heartfelt documentary about Dementia after his EastEnders on-screen mum Barbara Windsor passed away from the disease.
Ross is also the host of brand new BBC1 quiz show Bridge of Lies which will return for Series 2 in 2023 and the highly acclaimed new Sky History series Ross Kemp: Shipwreck Treasure Hunter as he deep dives off the coast of Britain. Ross is currently abroad filming Series 2.
You can check out Ross's brand new podcast, The Kempcast, available on all platforms.
Speaker Timeslot
Wednesday 22nd March
2:15-3:00
Keynote Stage 2
Register for your free ticket to join Ross Kemp today: https://bit.ly/3tRTTCk