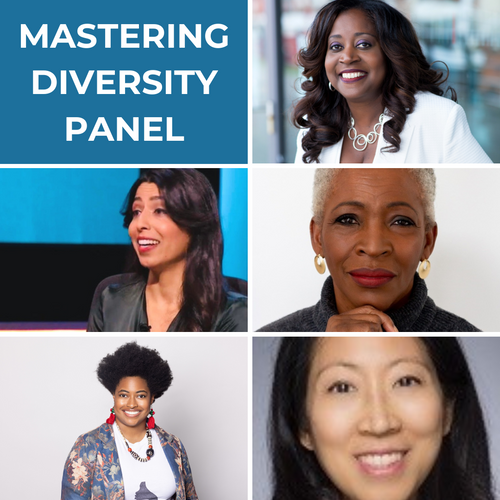 Mastering Diversity Panel
Bernie Davies, Shazia Hussain, Shelley Collins, Kwamara Thompson & Cornelia Choe
Mastering Diversity Panel Session
Panel Host: Bernie Davies, Diversity and Entrepreneurship Leader, TEDx Speaker & Best Selling Author
Ethnic Minority Welsh Women's Achievers Association Lifetime Achievement 2023 Award winner, Bernie Davies, is a multiple award winning TEDx Speaker, Bestselling Author, Diversity and Entrepreneurship Leader, with a previous outstanding legal career in property, of over 21 years. Bernie is Past Chair of the Neath Chamber of Trade, 1st Black female appointed to the Advisory Panel of the Public Services Ombudsman for Wales, Board Chair, Women's Business Club, Board Member, Wales's leading Entrepreneurship support organisation Business In Focus, Fio Arts Charity, Black History Wales Management Committee, Ambassador for the Commonwealth Entrepreneurs Club, Business Wales and Equal Power Equal Voice Mentor, Welsh Government Excelerator Coach and Founder of Bernie Davies Global. Bernie supports entrepreneurship programmes with a focus on diversity, for major banks, universities and government agencies and sits on the Diversity Panels for S4C and ITV Wales.

Author of Amazon Bestsellers, Your Business Your Way and Mastering Diversity- "We Go Together or Not at All", Bernie has won Excellence in Business 2017, received at the Welsh Senedd, Swansea Black Icon 2018, Top 100 Businesswoman 2017, Women's Business Club 2021 Diversity and Inclusion Champion, to name a few. In 2023, she launched Mastering Diversity, a multi-disciplinary Diversity and Inclusion Conference in Wales, which was hailed as an historic event by the Welsh Government, Women Mastering Change Initiative in Westminster and the UK House of Lords and Mastering Diversity Taskforce Wales. Bernie's work is guided by her passion and famous mantra which is, "We Go together or Not at All
Cornelia Choe, CEO of The Leaders Alliance
Cornelia is the CEO of The Leaders Alliance, an organization that connects diverse senior leaders seeking to become more insightful and fulfilled in their careers. She gained her skills at the Harvard Kennedy School under the guidance of global authorities on leadership. Her career journey has led her to work with leaders in industries ranging from private equity and law to government and non-profit, at organizations including the United Nations and Morgan Stanley. Cornelia's rich work and life experience on three continents has given her critical insights into how diverse people connect and complement each other, and how to create connection, trust and benefit for all.
Kwamara Thompson - Social Entrepreneur, Angel Entrepreneur & Podcast Host
As a Black female social entrepreneur, Kwamara wants those in her community to succeed, and through marrying her passions for leadership, activism, and education, she has been able to help many in her community attain their financial and entrepreneurial goals.. As an angel and seed investor, Kwamara and TEC, LLC have invested tens of thousands of dollars in hundreds of small businesses owned by black women across the country.
Kwamara is recognized as an industry leader having been featured in multiple articles across the globe including CBS, NBC, Yahoo News, Business Insider, Boston Herald, Market Watch, and has been featured on many podcasts including iHeart Radio. She has spoken at numerous conferences across the country as well as being a keynote at several. Kwamara also sits on the board of numerous organizations, where she helps organizations think through their educational and racial justice initiatives.
As a social entrepreneur, Kwamara Thompson has always been fighting for positive change by leading with her passion for education. As an accomplished speaker, consultant, educator, and activist, Kwamara has started multiple ventures throughout her career to help people improve their lives, to help organizations become equity and empathy focused, and to help alleviate the structures of systemic racism. Kwamara has always believed that entrepreneurship and education are often the best ways to attain financial freedom; to live the quality of life you want to live. She has been promoting 'sistahood', community, and empowerment for over 20 years.
Follow her @kwamaradenise and @iamablackwomanyes and LinkedIn as Kwamara Thompson
Shelley Thompson, CEO, Just Resources International & The SCO Limited.
Experienced Trainer, Speaker and Diversity Specialist with a demonstrated 30 year track record of training around the world on community & race relations, equality, diversity and organisational development & HR Issues to public, private & voluntary sector organisations. Expertise in senior leadership training, change management and personal development. Experienced coach, mentor and advisor for high profile leaders for over 20 years.
Shazia Hussain, Diversity, Equity and Inclusion Keynote Speaker
Shazia is the daughter of Pakistani Immigrants from humble beginnings. She is one of 4 siblings growing up in an underprivileged area of Yorkshire. Shazia struggled to read and write in school and was labelled as "not very bright" by teachers in school. Despite the un-diagnosed neuro-diverse conditions until the age of 34, Shazia was educated at Goldsmith College London with a degree in media and communication. Shazia's career is predominantly in the technology recruitment industry and corporate banking. Having discovered her condition later on in life, Shazia is an advocate for educating and training teachers to spot Neuro-diverse conditions in children at an early stage so that children can be given the correct support to maximise on their potential in life. Shazia is currently lobbying parliament on this matter.
In 2023 Shazia was also successful in participating in the Award winning TV Show "The Apprentice '' with Lord Alan Sugar. The first ever candidate to champion neurodiversity, saying that her neurodiversity is her super power and launching her second business, Gourmet Mithai, Indian Fusion Desserts.