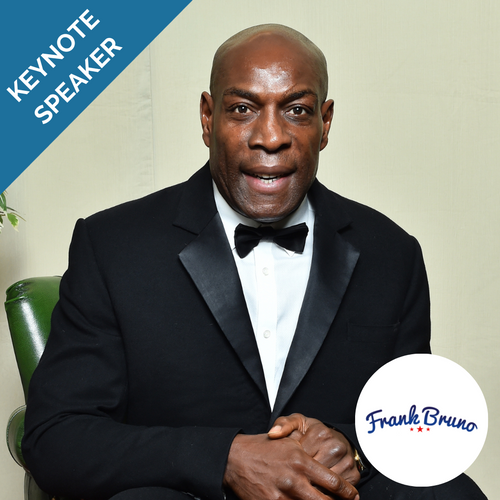 Frank Bruno
Former World Heavyweight Champion & Mental Health Advocate
Keynote Title TBC
Speaker Bio:
Former World Heavyweight Champion, Frank Bruno is one of the nation's favourite sporting personalities due to his loveable charm and infectious enthusiasm for sport. At the forefront of British boxing since the early 80s, Frank's illustrious career in the ring has seen him become a much loved media personality in recent years, not least for his honest discussions on the mental illnesses that he suffered with, after competing. As an after dinner speaker, Frank delivers anecdotal tales from his title winning fights and resonates with audiences through his personal mental struggles.
Turning professional aged 21, Frank made a name for himself due to his early fights being won by knockout, making him one of the most explosive and exciting boxers to watch of the era. Since 1982, Frank has been recognised for his powerful punch, one which saw him win the European Heavyweight Champion title in 1985 by knockout. Not a sport for the faint-hearted, Frank's gruelling training regime required as much mental resilience as it did physically in order to endure twelve rounds in the ring with some of the world's greatest boxers.
Harnessing the power of the mind to achieve his goals, Frank challenged for the World Title on three occasions, against Tim Witherspoon, Mike Tyson and Oliver McCall. Able to overcome the setback of perceived failure, by 1995 Frank was stronger than ever when he faced McCall, and finally won the BC Heavyweight Champion of the World title on points. A legend of the sport, Frank's career saw him secure forty victories from forty-five fights, thirty-eight of which were by knockout, a testament to his formidable natural ability.
Since hanging up his gloves, Frank hasn't got rid of his fighting spirit and remains a media favourite, with his charm and sense of humour brightening the screens of boxing punditry. One of Frank's toughest battles has been fought out of the ring and he has publicly campaigned to raise awareness for mental health issues, something he himself was too ashamed to admit plagued many of his years. This vulnerable and honest side to Frank continues to resonate with audiences and fans alike and he has been the subject of a number of programmes including Piers Morgan's Life Stories and Bruno VS Tyson. Additionally, he had published a compelling book exploring his mental health struggles titled 'Let Me Be Frank'.
Keynote Session Information TBC