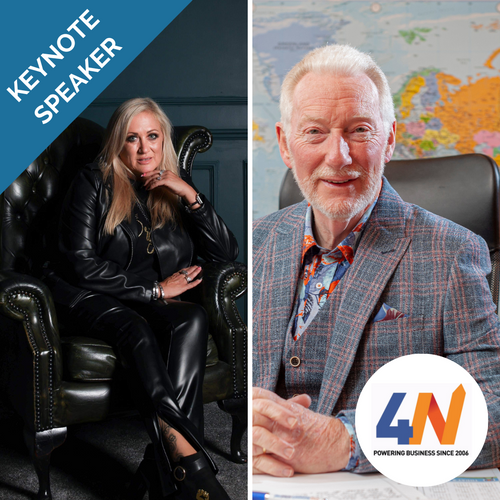 Caroline Andrew & Terry Cooper
Managing Director & Chairman - 4N
Speaker Title TBC
Speaker Bios:
Terry Cooper
Terry became a salesman at the age of 19 and throughout his business career has remained "passionate" about sales. He spent 34 years in the corporate world in the print industry the last 10 years on the main board of a multi-national PLC, 7 of those years as Managing Director. After a brief flirtation with "retirement" he started his own sales consultancy business Cooper Bradbury Associates and then became involved with an emerging networking company and 17 years on he is Chairman of 4NetworkingOnline and 1Networking. By his own admission, these last 17 years have been the most "fun" he has had in his career to date, and he has no plans to repeat the "retirement" experience any time soon!
Caroline Andrew
Caroline Jane Andrew, aka "The Networking ReBel," is a dynamic force in the world of business networking and personal development. As the Managing Director of 4Networking, a renowned networking organization, Caroline brings a fresh perspective to the art of connecting and thriving in the business world.
With a passion for fostering confidence in individuals seeking to maximize their networking potential, Caroline is known for her unwavering dedication to helping professionals break out of their comfort zones and make meaningful connections that drive success. Her coaching expertise is a beacon of guidance for those looking to harness the power of effective networking.
Caroline's influence extends far beyond her immediate sphere, as she regularly takes the stage on the international circuit. Her engaging and down-to-earth speaking style has made her a sought-after speaker for diverse organizations across the globe. Her talks are not just informative but also transformative, providing attendees with invaluable business advice and actionable insights that can be immediately applied to their professional lives.
What sets Caroline apart as a speaker is her authenticity. She is a true advocate for thinking outside the box and embracing one's individuality as the key to success. Her message is one of empowerment and self-discovery, encouraging people to leverage their uniqueness as a catalyst for reaching new heights in their careers and businesses.
Caroline Jane Andrew is a game-changer, an advocate for breaking the mold, and a catalyst for personal and professional growth. When she takes the stage, prepare to be inspired and equipped with the tools to navigate the world of networking with newfound confidence and enthusiasm. Caroline's mission is to help you redefine your networking strategies and realize your full potential, making her a compelling and relatable figure in the world of business networking and personal development.
Keynote session information TBC